We invite you to join us in the Biomass Mobilisation Innovation and Strategy Course (#BioMob).
15 April – 18 May – 10 June – 29 June 2021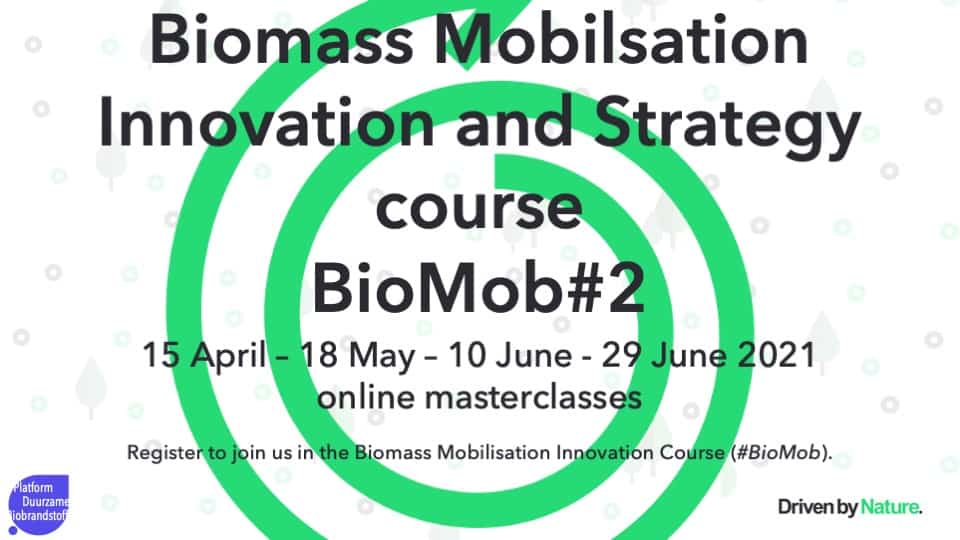 Scaling up sustainable bio-feedstock supply chains is a big challenge for many companies and organisations in the transition to the circular, bioeconomy. This is touching on different parts and dimensions of innovation. It is about identifying bio-feedstock potential that do not harm -or strengthen- biodiversity and contribute to carbon sequestration, logistic challenges, transparency, technical innovations and cooperation.
In the masterclasses you will examine how to identify and develop sustainable bio-feedstock supply chains for biorefinery.
Content
During three masterclasses you focus on different approaches for biomass mobilisation and dimensions of innovation such as governance, logistics, commodities, policies, revenue models.
Masterclass 1
Did you know that 4,6 EJ of biomass could be made available by using abandoned lands throughout Europe? That would mean feedstocks for biofuels that could cover 1/3 of current energy use in transport in Europe.
Masterclass 2
What is the potential of acquatic biomass? Did you know that only 10% of Dutch North Sea is needed to produce 350 PJ of Macroalgae. And what acquatic crops coud be integrated in wetlands, salt marches?
Masterclass 3
Looking at wastes and residues: what unused waste streams could be identified in agriculture or in expanding timberlands and in our agri-food processing industries? How could currents residues be valorised more optimally?
The fourth masterclass will be co-produced together with participants.
More information
For whom?
The biomass mobilisation innovation course is designed for professionals and academics (university/university of applied sciences) that are open to explore new approaches. The course is meant to create a network of front runners in sustainable bio-feedstock mobilisation. You have the opportunity to exchange your views and experiences with a group of fellow professionals.
Dates and commitments
Dates: 15 April – 18 May – 10 June – 29 June 2021
Times:                      14:00 – 16:00
Commitment: the innovation course will be free of charge. We ask for committed participation, an open mind for explorations and willingness to build collective intelligence.
Registration and inquiries
Registration
Registration to the Biomass Mobilisation Innovation Course is possible by using the contact form mentioning 'Registration for BioMob#2' in the subject. The contact form can also be used for further inquiries.