IGES, FinCo and CIV Texel cooperate to remove non-recyclable plastics from the North Sea and deliver it after conversion as a clean transportation fuel to the Texel fishing fleet.
Integrated Green Energy Solutions (IGES), FinCo Fuel Nederland B.V. (FinCo) and Cooperative of fishermen Texel (CIV Texel) signed an agreement that will act as a showcase for the circular economy. The participating fishermen take all non-recyclable plastic waste from their fishing nets to shore from which it will be delivered to IGES, that will produce low carbon diesel quality fuels from the collected plastics at their new Amsterdam production facility which is currently under construction. FinCo will distribute the fuel back to the fishermen as a clean diesel for their fishing fleet.
Cleanup non-recyclable plastics
All participating companies involved are enthusiastic about this cooperation that is supported by Paro Amsterdam B.V. Stichting De Noordzee and KIMO. "It works two ways; on one hand these waste-to-plastic fuels result in a significant reduction of CO2 emissions which reflects the ambitions of all companies involved, and on the other hand it shows our commitment to be actively involved in the cleanup of our oceans", said Bart-Willem ten Cate, responsible for biofuels and renewables at FinCo Fuel Group. He furthermore hopes that the initiative is scalable, and that more fishermen at the North Sea and the Waddenzee will get involved.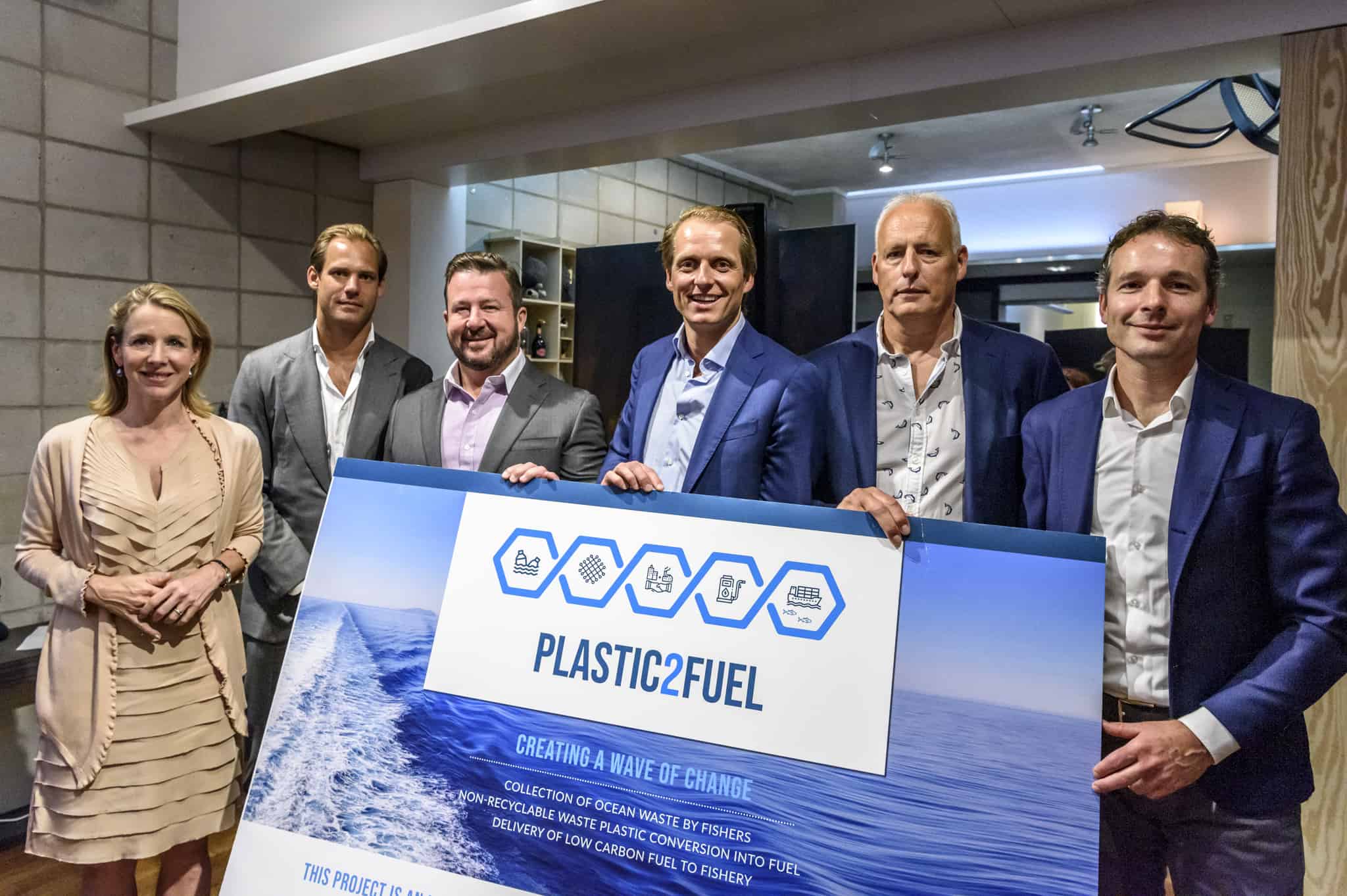 From left to right: Stientje van Veldhoven – Secretary of State of Infrastructure and Water Management, Paul Harkema – IGES, Paul Dickson – IGES, Floris Geeris – IGES,  Maarten Drijver – CIV Texel, Bart-Willem ten Cate – FinCo
80% reduction CO2
Executive Chairman of IGES, Paul Dickson said, "We are thrilled to be a part of this initiative to engage with the local community to fight against marine litter and create immediate and positive impacts together. Our patented technology offers a sustainable solution to reduce plastic pollution and maximize the economic value of end of life plastic. IGES's Amsterdam plant will process 96 tons of end of life plastics per day to deliver 35 million liters of fuel per annum that requires no further processing, blending or refining- a world first." He adds that this will result in a reduction of approximately 80% less CO2 emissions when compared to conventional diesel.
More information on the IGES Amsterdam project is found here.
More information on Finco Fuels is found here.