Energy Innovation Needs Assessment Overview Report
Energy Innovation Needs Assessment
Overview Report
UK Department for Business, Energy & Industrial Strategy
October 2019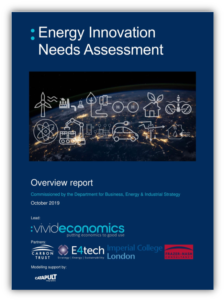 "The UK needs to decarbonise in a way that ensures energy reliability and affordability and supports economic growth and employment. While the market will innovate new technologies to some extent, there is a rationale for the UK to intervene to overcome barriers, such the high risk associated with speculative technologies, long payback periods, and lack of a clear market signal for low-carbon goods and services."
This report aims to identify the key innovation needs across the UK's energy system, to inform the prioritization of public sector investment in low-carbon innovation. Innovations were prioritized in terms of the value they contribute to the UK, either by reducing energy costs or by increasing the potential export markets. Innovations were also prioritized when they can "unlock value across electricity, heat, transport sectors and the rest of the economy". The report also analyzed whether there is a need for UK intervention in addition to private and international efforts. The technologies investigated are limited to those that provide clean energy supply or reduce demand for energy and cross-cutting technologies that facilitate the delivery of clean energy. Some of the priority innovations identified include, but are not limited to:
Demonstration of early commercial gasification-based routes for bioenergy to produce liquid or gaseous biofuels, including in combination with CCUS
Bioenergy: Piloting the pre-treatment and hydrolysis steps and developing processes that are tailored to particular feedstocks
Bioenergy: development of miscanthus breeds and its use in energy processes
Demonstration of reformers for hydrogen production in combination with pre-combustion CCUS
The table below shows the results of the innovation screening process: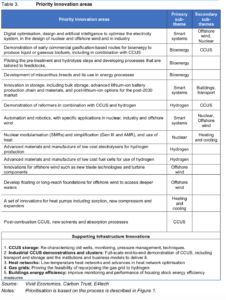 The figure below shows the business opportunities that can arise from these innovations. These opportunities can support approximately 500,000 jobs in the UK by 2050.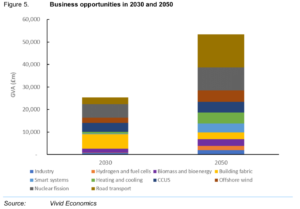 Information related to the report can be found here.
A special sub-theme report on biomass and bioenergy in the UK can be found here.
Date

08/03/2020

Tags

2020, Biofuels, Biogas, Energy, hydrogen, Innovation, Market perspective