(How to Solve) Indirect Land Use Change from biofuels
23 maart 2017
bijeenkomst werkgroep Grondstoffen
presentatie Carlo Hamelinck – Ecofys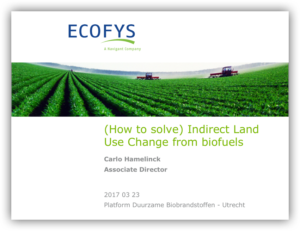 Tijdens de bijeenkomst van de werkgroep Grondstoffen gaf Carlo Hamelinck (Associate Director van Ecofys) een toelichting op de resultaten van de Globiom-studie. Deze studie is opgesteld in opdracht van de Europese Commissie om inzicht te krijgen over de indirecte effecten van landgebruikverandering als gevolg van de inzet van biobrandstoffen.
In de presentatie licht Hamelinck de achtergronden en de resultaten van de Globiom-studie toe. Hij waarschuwt om zorgvuldigheid in acht te nemen bij het interpreteren van de resultaten van de studie:
"ILUC factor is only for additional biofuels compared to 2010 level

De often cited Transport and Environment (NGO) interpretation is incorrect
ILUC factors do not add to direct emissions for all biofuels
(Moreover, observed direct emissions much better than RED typical)

Biofuels produced from crops under set-aside regime ILUC free
Results for individual crop-fuel combinations are for a 1% increase from 2010
Smaller increases would result in lower ILUC values (non-linearity)
ILUC amortised over 20 years – after 20 years much lower value
Sustainable biofuels are essential for sustainable transport (next to other solutions)"
Hamelinck sluit zijn presentatie af met enkele perspectieven:
"Biofuels are not automatically good or bad
The potential for sustainable biofuels can be very large

This requires improvements in agricultural practice and system

In long run, bioenergy and -materials have low greenhouse gas emissions

ILUC pays back: much smaller or even zero after 20 years
Fossil fuels never pay back – instead, emissions increase

Deforestation & peatland drainage will not stop in absence of biofuels

Under global 1.5C scenario these practices will stop à ILUC disappears

Produce biofuels feedstock without ILUC

Increase yields above baseline (especially relevant for "food crops")

Developed countries: innovations: precision farming, multi-cropping
Developing countries: bridge yield gaps: access to means, know-how & market

Production on unused / abandoned land (direct & good Land Use Change)
Cellulose feedstocks, sustainable fraction of residues, and true wastes

Any ILUC mitigation measure should be credible and verifiable"
De presentatie kan hier worden gedownload.
Het Globiom-rapport, opgesteld door Ecofys, IIASA en E4Tech kan hier worden gedownload.