Green Gas – Facilitating a green gas grid through the production of renewable gas
2018
Jerry Murphy (ed.)
IEA Bioenergy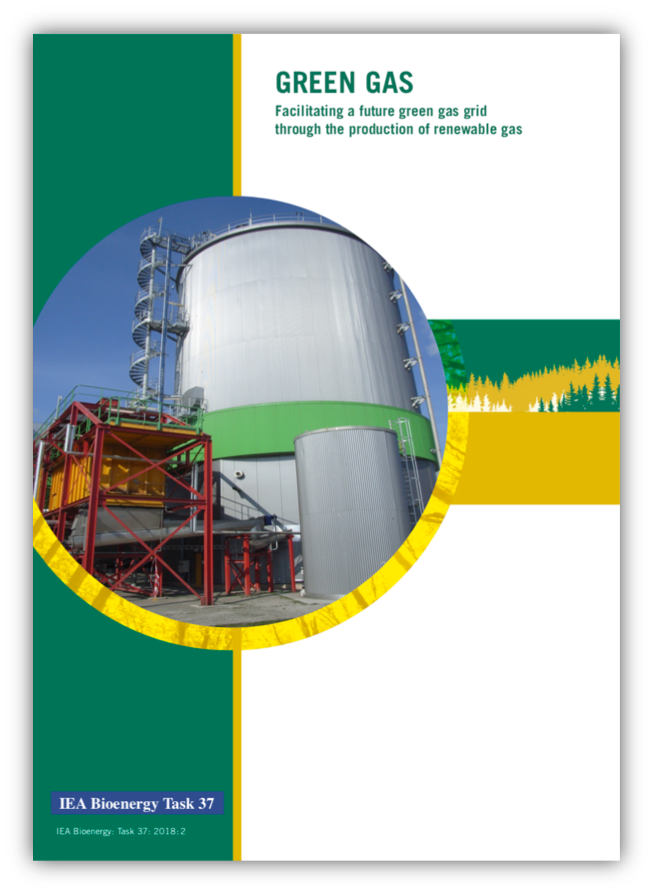 Task 37 (Energy from Biomass) van international samenwerkingsverband IEA Bioenergy heeft recent onlangs een rapport uitgebracht "Green Gas – Facilitating a future green gas grid through the production of renewable gas". Nederland is lid van dit samenwerkingsverband.
De website van IEA Bioenergy vermeld het volgende:
"Green gas refers to renewable gas, which is currently mostly generated from the anaerobic digestion of organic biomass and residues produced in agriculture, food production and waste processing. Future technologies such as gasification+methanation and power to gas systems have been identified as methods that could also contribute substantially to renewable gas production.
This Task 37 report outlines the various substrates and technologies for green gas production and examines how much natural gas can be replaced by green gas in specific countries. An indigenous biomethane resource can potentially replace significant amounts of natural gas. Particularly in countries with well-established and closely linked gas grids, there are good opportunities to create a market for biomethane, thus lowering dependency on fossil fuels."
Het rapport geeft ook een situatieschets van de situatie in Nederland, evenals van het Verenigd Koninkrijk, Italie en Denemarken.
Het rapport is hier te vinden.
De algemene website van IEA bioenergy is www.ieabioenergy.com
De taakgroep heeft een eigen website: task37.ieabioenergy.com, waar ook verschillende landenrapporten en andere publicaties zijn te vinden.