Technology Roadmap – Delivering sustainable bioenergy
IEA
2017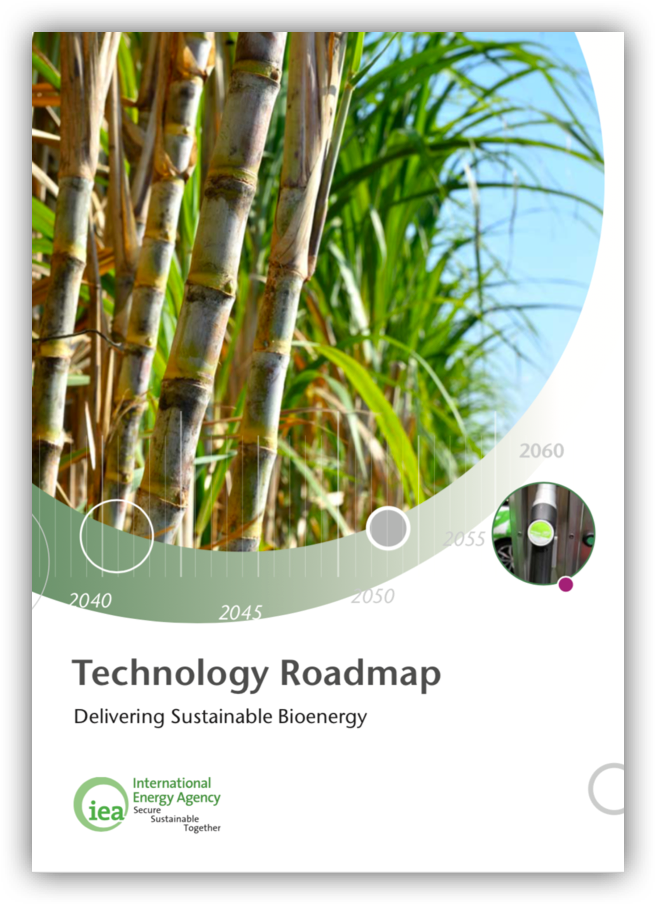 Het Internationaal Energie Agentschap, IEA, ontwikkelt een serie van rapporten over 'global low-carbon energy technology roadmaps' van de meest belangrijke energietechnologieën.  Het doel van de serie rapporten is inzicht te geven in de wereldwijde ontwikkelingen om de CO2-emissies sterk te reduceren. De roadmaps identificeren belangrijke acties voor overheden, industrie, financiële en maat-schappelijke instellingen om de uitrol van deze technieken te versnellen en klimaatdoelen te bereiken. Uitgangspunt van de roadmaps is het beschrijven van technologie-routes die in het '2°C-scenario' passen.
Het rapport "Technology Roadmap – Delivering Sustainable Bioenergy" beschrijft de ontwikkelingen tot en met 2060 en geeft aan dat een verviervoudig van inzet van biomassa voor energieverbruik en in 2060 een tienvoudigeinzet van biobrandstoffen t.o.v. van huidige situatie (van 3 naar 30 EJ) nodig is om de CO2-emissies in transport terug te brengen (naast de andere noodzakelijke opties  zoals de groei van elektrische mobiliteit).
Adam Brown en Paolo Frankl van IEA schreven de volgende blog over het rapport:
"The recent discussions on renewable energy are mostly focused on the rapid growth of wind and solar deployment and their impressive drop in cost. While these developments are remarkable, they also overshadow what remains the most important source of renewable energy today – bioenergy.
One unique feature of bioenergy compared to other renewable energy technologies is how it can provide low-carbon transport fuels, electricity, and heat for industry and buildings. Its contribution to final energy demand is five times higher than wind and solar PV combined, even when inefficient and unsustainable traditional biomass, such as the use of wood and dung for cooking, is excluded.
But bioenergy is a complex subject, with many possible feedstocks, conversion processes and energy applications. It has strong ties to the agriculture, forestry and waste management sectors, and its prospects are linked to the growth of a broader bio-economy. It can also be a controversial topic, though there is a growing recognition that only bioenergy supplied and used in a sustainable manner can play a role in a low carbon energy future.
Plotting a path for biofuel, the International Energy Agency's new "Technology Roadmap: Delivering Sustainable Bioenergy" provides the technology milestones and policy actions needed to unlock the potential of bioenergy in line with a long-term low-carbon and sustainable global energy mix.
Bioenergy has an essential and major role to play in a low-carbon energy system. For instance, modern bioenergy in final global energy consumption should increase four-fold by 2060 in the IEA's 2°C scenario (2DS), which seeks to limit global average temperatures from rising more than 2°C by 2100 to avoid some of the worst effects of climate change.
It plays a particularly important role in the transport sector where it helps to decarbonize long-haul transport (aviation, marine and long-haul road freight), with a ten-fold increase in final energy demand from today's 3 EJ to nearly 30 EJ. Bioenergy is responsible for nearly 20% of the additional carbon savings needed in the 2DS compared to an emissions trajectory based on meeting existing and announced policies.
But the current rate of bioenergy deployment is well below these 2DS levels. In the transport sector, biofuel consumption must triple by 2030, with two-thirds of that coming from advanced biofuels. That means scaling up current advanced biofuels production by at least 50 times to keep pace with the 2DS requirements by 2030. In scenarios with more ambitious carbon reduction objectives, such as the IEA's Beyond 2 Degree Scenario (B2DS), bioenergy linked to carbon capture and storage also becomes necessary.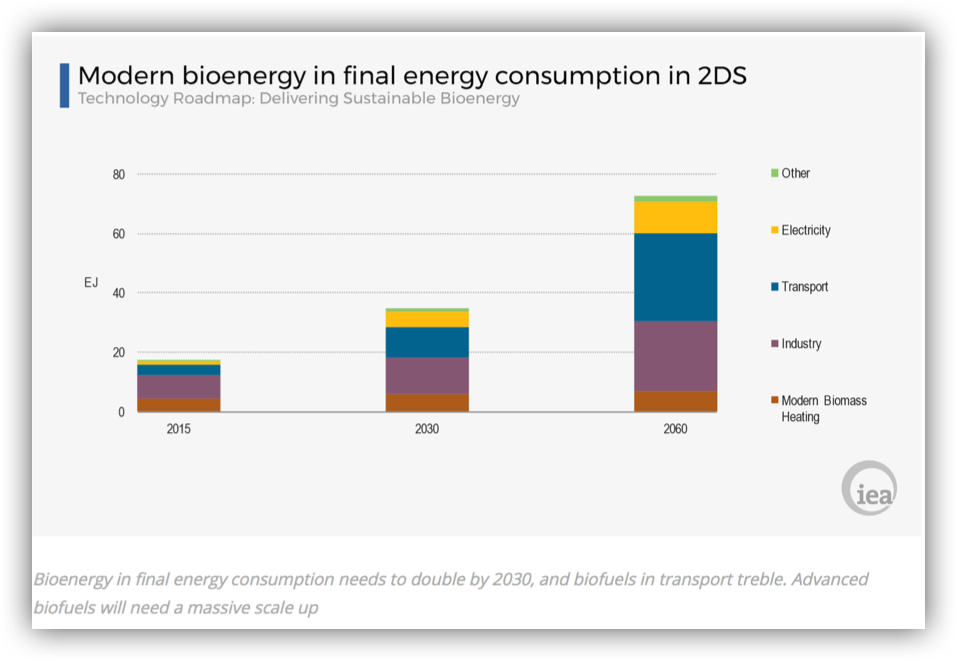 The IEA's technology roadmap shows how that gap can be bridged, and highlights various areas where urgent action is needed, such as accelerating the deployment of a range of mature bioenergy solutions, which can immediately deliver multiple benefits, and enabling the deployment of the new technologies which are needed in a future low carbon energy system. (In January, the IEA also published a How2Guide for Bioenergy, jointly developed with the Food and Agriculture Organization of the United Nations (FAO), as a toolbox that can be used for both planning and implementing new bioenergy strategies, or to improve existing ones.)
The roadmap also points out the need for a five-fold increase in sustainable bioenergy feedstock supply, much of which  can be obtained from mobilising the potential of wastes and residues. An  appropriate approach to sustainability governance is needed, which prevents bad-practice while encouraging continuous improvement and innovation. And it also calls for enhancing international cooperation, building technical and institutional capacity, and enabling higher investments to deliver bioenergy's role in a future low carbon energy system.  
An expanded role for bioenergy is an essential component of a low carbon energy future. A major international effort is urgently required to mobilise this valuable resource."
Het rapport is hier te downloaden.
Meer informatie over andere Technology Roadmaps van IEA is hier te vinden.