Innovation Outlook – Advanced Liquid Biofuels
2016
IRENA – International Renewable Energy Agency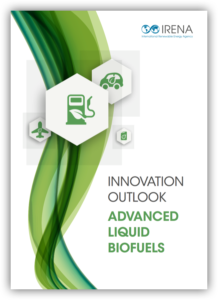 IRENA onderzoekt in de 'Renewable Energy Innovation Outlook' reeks hoe de voortgang is van nieuwe ontwikkelingen in de verschillende hernieuwbare energietechnologieën (mini-elektriciteitsnetten, off-shore wind, biobrandstoffen etc) . Onderzocht wordt of hun competitiviteit en belang verbetert en ze ingezet kunnen worden in de commerciële energiemarkten en systemen.  Elk Innovation Outlook rapport verkent dt uitdagingen op technologisch, industrieel en beleidsgerelateerd vlak en verkent de potentiële doorbraken en benodigde onderzoek om de markttoepassing op te schalen.
Het Innovation Outlook: Advanced Liquid Biofuels rapport laat zien hoe nieuwe doorbraken de ontwikkeling van deze 'key renewable energy technology' verder brengen. Succesvolle implementatie zal afhangen van betrouwbare prestaties van de technologie en acceptable kosten.  Verdere innovatie is nodig met betrekking tot de grondstoffen en de manier waarop de biobrandstoffen worden gebruikt. Technologieën voor de productie van alcoholen zoals ethanol end methanol zijn volgens het rapport klaar voor snelle groei en uitrol. De zoektocht naar de juiste vervangers voor diesel en kerosine gaat onverminderd door, waarbij men o.a. kijkt naar manieren   om Fischer-Tropsch en andere processen te commercialiseren, en biologische routes om koolwaterstoffen te produceren verkent.
Uit de samenvatting voor beleidsmakers:
The case for advanced biofuels
Biofuels have a vital role to play in the global transition to sustainable, renewable energy. Together with electric vehicles and the increase of renewables in the power mix, they can help us move away from petroleum use in passenger transport. They also provide the only practical alternative to fossil fuel for aeroplanes, ships and heavy freight trucks. Advanced biofuels using lignocellulosic feedstocks, waste and algae could vastly expand the range of resources for fuelling both light and heavy transport.
Advanced liquid biofuels can be refined from a range of sources. These include agricultural residues associated with food crops, as well as forest residues like sawdust from lumber production. Other sources include non-food energy crops, such as rapidly growing grasses like switchgrass and miscanthus, and short rotation tree species like poplar and eucalyptus. Finally, advanced biofuels are produced from solid biogenic waste (including the biogenic fractions of municipal and industrial waste, as well as garden waste) and algae.
These emerging options open up the range of feedstock available to produce biofuels for transport, while mitigating sustainability risks associated with changing land use and competition over food production. Residues do not compete with crop or lumber production but grow alongside it. High-yielding grasses and trees can grow more energy per unit of land area than conventional biofuel crops, potentially mitigating the impact of any land use change.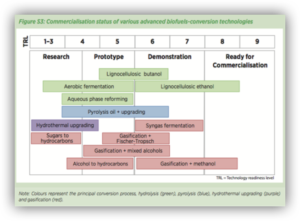 Innovation Outlook: Advanced Liquid Biofuels provides a global technology outlook for advanced biofuels between 2015 and 2045, speci cally for liquid transport fuels for road, shipping and aviation use. It includes details of the technical and non-technical barriers to commercial deployment and the role of innovation in overcoming these barriers. It provides strategies to support advanced biofuels at all stages of the innovation chain. The potential for advanced biofuels is great but so are the challenges. A competitive advanced biofuels industry will depend on innovative technology and supply chains, market development and policy support.
De volgende rapporten zijn hier te downloaden: