Integrated Fuels and Vehicles Roadmap 2030+
2016
Roland Berger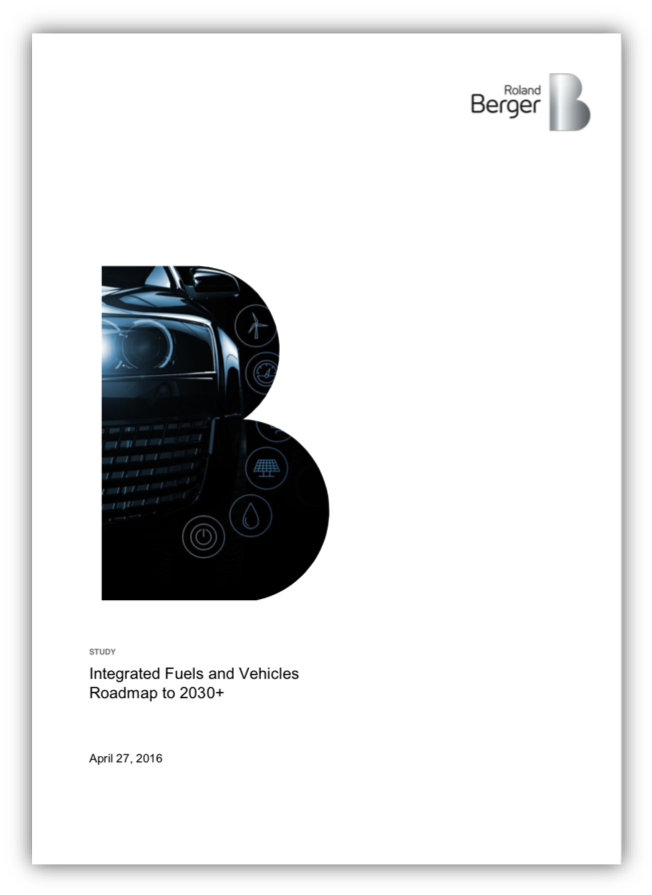 In 2016 publiceerde Roland Berger een vergelijkende studie naar mogelijkheden om tegen zo laag mogelijk kosten CO2-reductie te bereiken in de transportsector in Europa.
Uit de Executive Summary:
"For this purpose, Roland Berger has been commissioned by a coalition of automotive companies and fuel suppliers1 to define and produce an Integrated Roadmap for EU Road Transport Decarbonization to 2030 and beyond. The study was commissioned to identify possible reductions in GHG emissions by considering the key elements of technical achievability, infrastructure needs, customer acceptance and which policies, currently being pursued, would lead to greater integration between the automotive and fuel sectors in order to meet the challenging decarbonization goals set out to 2030 and beyond. This study aims to provide an integrated roadmap taking into account the feasibility of all fuel and vehicle technologies along with infrastructure needs and the recommended policy framework beyond 2020. A key consideration was to identify a roadmap with the lowest, achievable GHG abatement costs to society."
Het rapport is hier te lezen.
Of leed de handout met de belangrijkste bevindingen.