ITF OECD – Decarbonising Maritime Transport Pathways to zero-carbon shipping by 2035
Decarbonising Maritime Transport Pathways to zero-carbon shipping by 2030
2018
International Transport Forum – OECD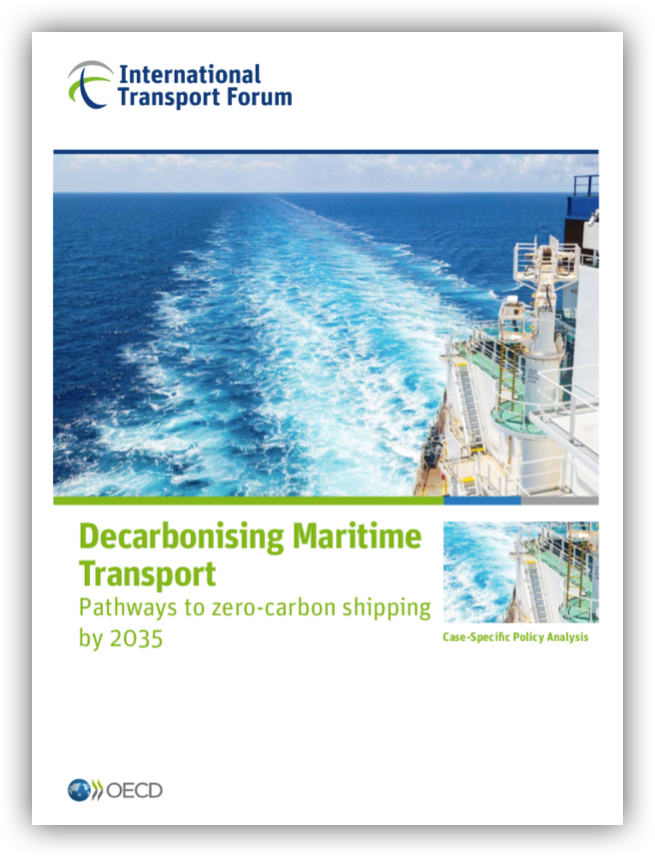 The report was publish prior to the IMO decision to set a target of 50% CO2 reduction to the international shipping sector.
Quotes from the summary of the report: "This report examines what is needed to decarbonise international shipping by 2035. Zero carbon emissions from shipping within this timeframe is one of the proposed levels of ambition in the context of theInternational Maritime Organization's "Initial GHG Strategy", due to be agreed in 2018. Using the ITF International Freight Model, the report provides an updated baseline scenario for the development of emissions to 2035 and gives an overview of measures that can effectively reduce shipping emissions. Using different combinations of these measures, it charts possible decarbonisation pathways and reviews the conditions for implementation.
This report is written for the biofuel provider and biofuel developer with the aim of providing an overview of the shipping sector, the technologies, fuels and regulations associated with its supply and consumption of fuels. The different biofuel technologies and their supply potentials are presented and discussed.
The sector is currently looking at solving the issue of reducing sulphur levels by using more refined fuels, an operation done at the oil refinery.
Biofuels have very low sulphur levels and low CO2 emissions, as such they are a technically viable solution to low-sulphur fuels meeting either the VLSFO or ULSFO requirements. The immediate challenge is that the shipping sector has little knowledge on handling and applying biofuels as part of their fuel supply. Another challenge is that the volumes of biofuels required to supply the shipping sector are large.
The cost of biofuels is higher than the cost of fossil fuels and is expected to remain so in the short to medium term. Specific mandates on biofuels or carbon taxes will make biofuels economically more competitive. Alternatively low-carbon transport may be introduced as a business model, putting a value on lower CO2 emissions.
In conclusion a combination of factors that include:
New IMO regulations requiring reduced levels of sulphur in marine fuels
Increased focus on reducing emissions of GHG from the marine sector from governments and customers of transportation services.
A desire to be able to hedge the cost of fuels in local currency and away from fossil crude pricing
The ability to "drop in" to existing fuel refining, blending and in some cases even the distribution infrastructure
Potential regulations on CO2 emissions from the merchant shipping sectorTogether these factors create a potentially large market for biofuels in the shipping sector. From a biofuel producer point of view, the wide technical fuel specifications are attractive, as they can lower production costs. However, both technical and logistic issues needs to be resolved before biofuels can be introduced at a larger scale in the shipping sector, and a closer collaboration between biofuel producers, engine developers and ship owners is recommended as a path forward."
Het rapport kan hier worden gedownload.
Date

15/06/2018

Tags

2018, Climate, Emissions, Innovation, Policy, Scenario-analysis, Shipping, Sustainability, Technology