Renewable molecules aside from sustainable electrons
Green Liaisions – Hernieuwbare moleculen naast duurzame elektronen
Contouren van een routekaart Hernieuwbare Gassen 2050
2018
De Gemeynt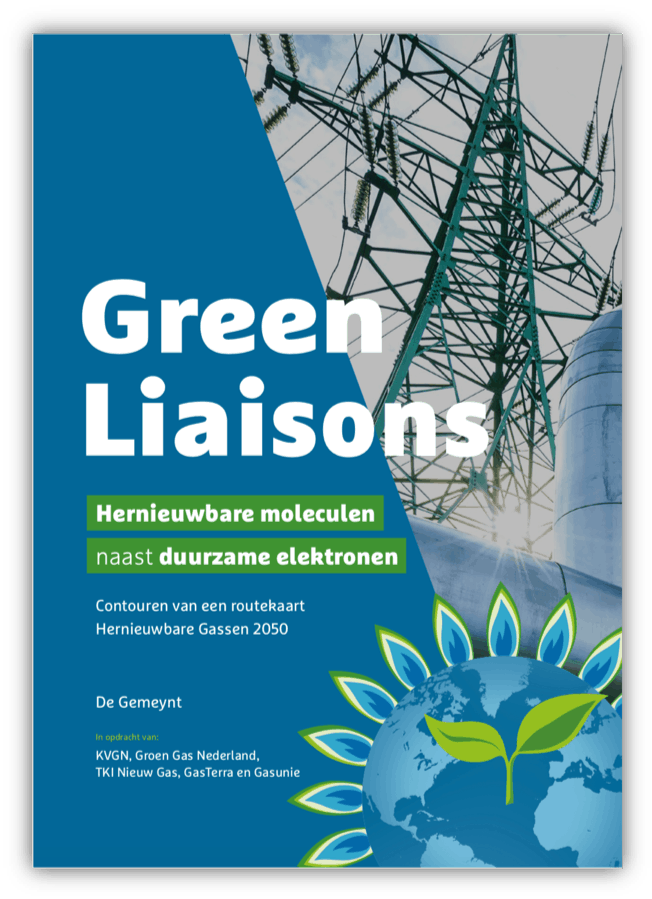 De Gemeynt, a collaborative of idependent advisors, thought leaders and entrepreneurs explored in a report the role of renewable molecules next to sustainable electron. The report is written for KVGN, Groen Gas Nederland, TKI Nieuw Gas, GasTerra and Gasunie, all Netherlands organisations.
The report explores various transition paths, particularly in the industry, to find out the amount of climate neutral molecules that would be necessary towards 2050 if the energy and raw materials supply must be virtually emission-free. The study also explores how these molecules can be produced in a climate neutral manner to meet demand. Although technological improvements and material re-use through the circular economy might reduce the demand for molecules, products will always require molecules that cannot be simply replaced with electrons. That is why, the report focuses mainly on the options for the industry.
The report finds that not all energy functions can be easily electrified, due to the high temperatures required for the process.  It also finds that the amount of available feedstock can be a limiting factor due to its relative scarcity and its prioritization for energetic applications. Therefore, the report concludes that "a substantial part of the climate neutral gases, in particular carbonaceous, will have to be "reserved" for industry, because there are no alternatives to molecules for the production of materials and products. The surplus of climate-neutral gases can be used in the other transition paths such as mobility, power and the built environment". In general, the report highlights the following rules of thumb:
Make hydrocarbons for applications where carbon is indispensable. Do this from (as sustainable as possible) biomass
When possible, make molecules from renewable electricity (electrolysis and subsequent steps) for processes that do not require carbon
As long as insufficient sustainable electricity is available in one transition phase, make hydrogen by 'decarbonising' fossil fuels and storing CO2.
The report concludes that "to guarantee the green production of molecules, a focused and dedicated development program would be needed to ensure that sufficient carbon neutral gases are made available to industry".
The report can be downloaded here.
More information on De Gemeynt, click here.
Date

01/05/2020

Tags

2018, Availability, Biofuels, Biogas, Circular economy, Fuels, hydrogen, Market perspective, Netherlands, Scenario-analysis