Roadmap for the Chemical Industry in Europe towards a bioeconomy
E4tech, nova-Institute, BTG and DECHEMA
2019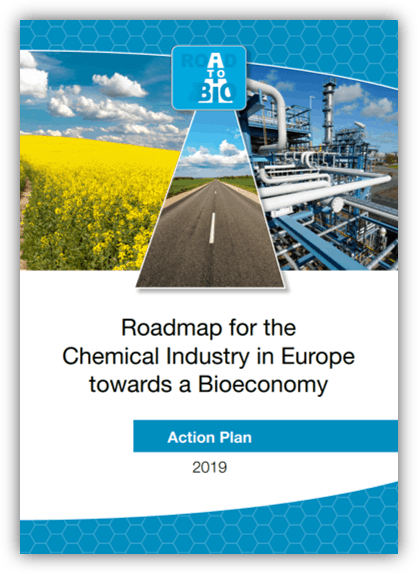 Information taken form the RoadToBio-project website:
"The RoadToBio project is funded by the EU under the Horizon 2020 research and innovation programme. Its aim is to
provide a roadmap for the European chemical industry to exploit potential opportunities offered by the bioeconomy and
increase the share of bio-based products. The RoadToBio bio-based chemicals roadmap for the European chemical industry ("RoadtoBio roadmap") aspires to increase the share of bio-based or renewable feedstock to 25% of the total volume of organic chemicals raw materials/feedstock used by the chemical industry in 2030. To meet societal needs the biomass used for bio-based chemicals must meet stringent sustainability criteria including on direct and indirect land use change.
The 25% target was set by the Bio-based Industries Consortium (BIC) in the 2017 Strategic Innovation and Research Agenda (SIRA), which provides innovation and research guidelines for the European biorefinery sector. The RoadToBio roadmap aims to provide an evidence-based foundation for the EU chemical industry upon which future industry and policy actions can be based. It consists of three different publications: An action plan, the strategy document and an engagement guide. To ensure it has credibility, it has been developed in consultation with stakeholders from industry, government and other organisations. The roadmap will be successful if governments and the chemical industry in Europe build on its evidence, analysis, key messages and strategic conclusions to increase the share of bio-based chemicals, delivering significant reductions in carbon emissions, increased energy efficiency, and creating a strong competitive position for the EU chemical industry in the dec-
ades to come."
More information:
– Click here for the full report. The report was produced by E4tech, nova-Institute, BTG and DECHEMA.
– Click here for more information on the project