Routeradar 2019 Street View Monitor: Status quo and development of renewable energy carriers in mobility in the Netherlands
Rijkswaterstaat
2020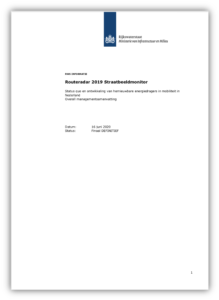 The Netherlands Ministry of Infrastructure and water Management is responsible for policy to lower the climate impact in Mobility. In 2014 the first edition of the Vision on a Sustainable Fuel Mix in Mobility was launched. in 2019 the Climate Agreement was published which contains extra measure to bring CO2-emission in 2030 to lower levels than anticipated from existing and announced policies.
Monitoring factual information on the progress of development and deployment of sustainable energy carriers in mobility is the main objective of the so-called 'Routeradar'.
In fact the report consists of a synthesis report and individual reports covering all transport modalities.  All reports are in Dutch, and can be found below
The street view monitor  aims to provide
compare the target values (of policy and of the individual fuel platforms) for 2030 and the actual achievements in 2019;
Focus on three areas: (1) the energy carriers themselves, (2) the infrastructure, en (3) transport means (vehicles etc);
Calculating the emission reduction per product-market combination om basis of the achieved numbers of energy carriers used, vehicles on the market and number of driven kilometers.
The synthesis report shows how over time the policy targets and expected CO2-emission reduction targets have been lowered over time. See the tabel below (translated and slightly adapted from the report)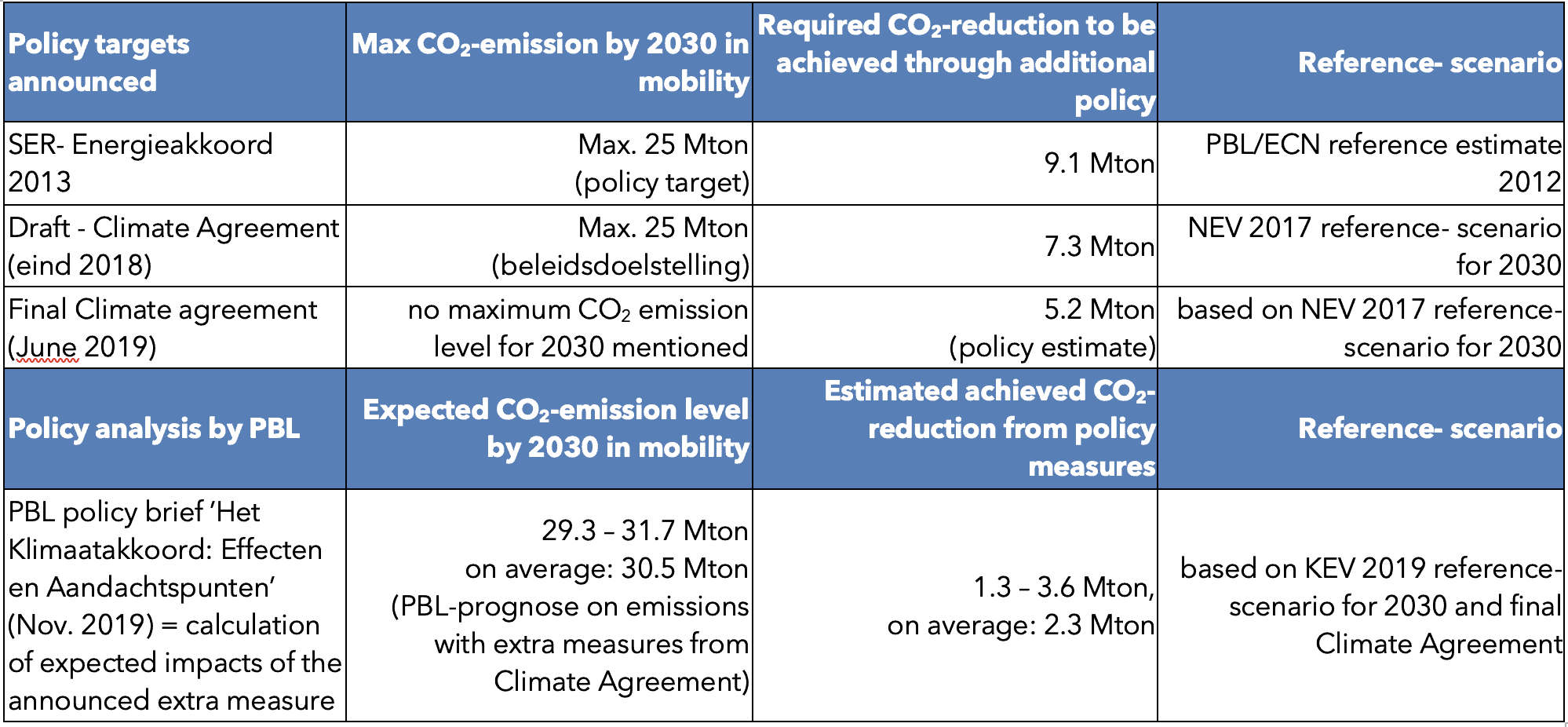 The Climate and Energy Assessment 2019 (KEV2019) expects that with all additional measures announced in the Final Climate Agreement the CO2-emissions will still be around 30,5 Mton CO2, while earlier policy targeted to get as low as maximum 25 megaton. Therefore, "while the international agreements have become more ambitious, the current PBL forecast for mobility for 2030 will actually lead to higher CO2 emissions than the Dutch policy objectives of a few years earlier. Even if this PBL forecast is met, many additional measures will be required after 2030 to achieve the agreements made in Paris for 2050".
Next to the synthesis report,  for each of the modalities, an individual report has been prepared. You can find these here (in Dutch):
It is important to point that international shipping and aviation are outside the Climate Agreement, that focuses on CO2 emissions on Dutch territory.
Note that the Route Radar figures are rough estimates and are only intended to give an impression of the relative contributions from the various fuel tracks and transport segments to understand progress towards the 2030 targets.