Strategic Research and Innovation Agenda 2018:
Cost-competitive, innovative, world-class bioenergy and biofuel value chains
2018
ETIP Bioenergy
The European Technology and Innovation Platform on Bioenergy (ETIP Bioenergy) is an industry-led stakeholder platform that brings together relevant actors from academia, industry,  and civil society, engaged in the development of sustainable bioenergy and competitive biofuel technologies. One major task of ETIP Bioenergy is to address the technical and economic barriers to the further development and accelerated commercial deployment of bioenergy technologies for the widespread sustainable exploitation of biomass resources.
ETIP Bioenergy published its '2018 Strategic Research and Innovation Agenda', as an update to its 2016 Agenda.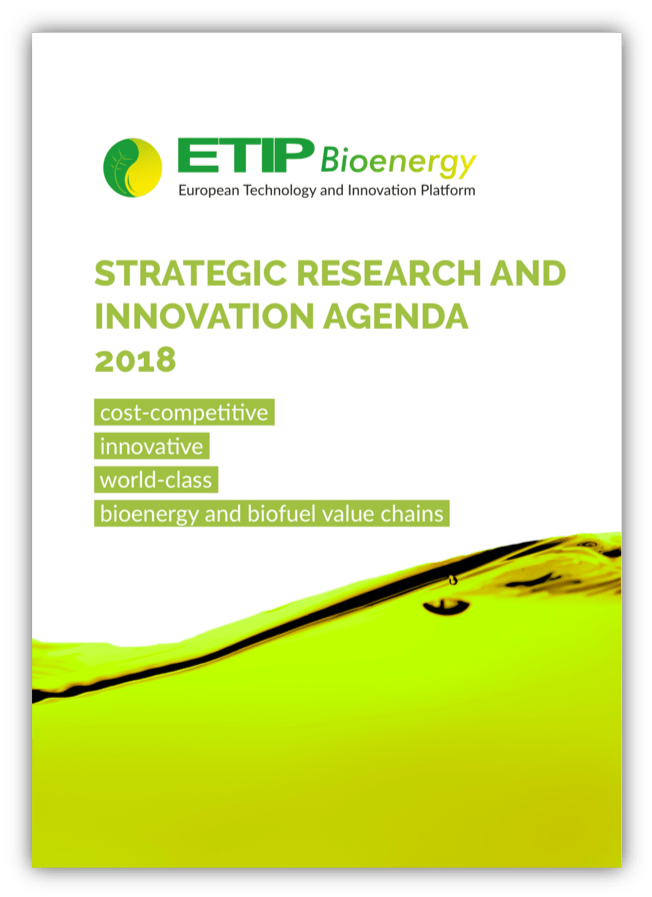 "The winning options will be the pathways (combination of feedstock, conversion and end products) best addressing combined strategic and sustainability targets: environmental performances (greenhouse gas reduction, biodiversity, water, and local emissions), security and diversification of energy supply, economic competitiveness and public awareness."
The report draws the following central conclusion from the upcoming regulatory context:
"With the RED II political compromise from June 2018, currently commercially deployed feedstocks and conversion technologies have a significantly reduced contribution to the EU 2030 targets. It is necessary to enlarge the feedstock basis into non- food resources and enhance conversion efficiency."
ETIP Bioenergy recomments both policy makers and the biofuels sector the following:
"Ensure a coherent national implementation of the EU biofuel legislation. Relevant, transparent and science-based data and tools for practical implementation of sustainability requirements in the legislation and market place should be further developed.
Support resource efficient supply following a system approach (including legal and financial mechanisms and measures).
The key priorities for commercial biofuel technologies are to improve environmental (GHG, energy balance, water, inputs…) and economic performance and bring flexibility as integrated biorefinery.
Conversion technologies targeting fuels for heavy duty road, air, and marine transport deserve priority attention because of lack of low fossil carbon alternatives and their increasing demand
Work to ensure a fair appreciation of CO2 emissions (well-to-wheel approach) such that vehicles running on partly or fully on renewable fuels and electric vehicles are treated using equal criteria.
The SET-Plan Action 8 Implementation Plan with suggested activities worth more than €100 bn needs to be executed by stakeholders, Member States and EU."
The Strategic Research and Innovation Agenda 2018 can be downloaded here.
The SET-Plan Action 8 Implementation Plan can be downloaded here.
---
The SET Implementation Plan Action 8 focusses on Bioenergy and Renewable Fuels for Sustainable Transport. "[It] describes the Research and Innovation (R&I) activities that need to be implemented in order to achieve the strategic targets adopted in the SET Plan Declaration of Intent (DoI), agreed in December 2017 by the representatives of the European Commission services, SET Plan countries and stakeholders most directly involved in the respective sectors.
In line with the SET Plan DoI, the Implementation Plan has three common goals for the field of Bioenergy at large:
Improve performance (yield and efficiency) of production,
reduce GHG emissions along the value chain and
reduce cost.
In order to capture the major segments of Bioenergy, the Implementation Plan describes targeted implementation approaches for Renewable Fuels for Sustainable Transport (automotive and aviation fuels, as well as hydrogen produced from renewable sources), Bioenergy (biosolids, bioliquids, and biogases) and intermediate bioenergy carriers.
Owing to the complexity, but also to the versatility of the value chain Feedstocks >>> Conversion >>> Intermediate Carriers >>> Final Product, the IP describes 13 activities. They are structured along Technology Readiness level (TRL)1 and consequently divided into Development, for Demonstration and Scale-up according to the table 1: Total investment for R&I activities below.
The estimated volume of investment for deployment is 2,29 Billion €, whereas 104,31 billion € is foreseen for demonstration and scale‐up activities.