Supply potential, suitability and status of lignocellulosic feedstocks for advanced biofuels
D2.1 Report on lignocellulosic feedstock availability, market status and suitability for RESfuels
ADVANCEFUEL
Hoefnagels, R. & S. Germer
2018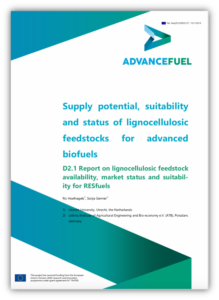 This report looks into the current EU bioenergy landscape and then continues to outline how future biomass potential availability and readiness should be accounted. The results of this report will then serve future tasks of the ADVANCEFUEL Project.
The report begins by highlighting the importance of bioenergy in the EU system, being the EU's largest renewable energy resource. The report also points out that it is expected that post 2030 a strong growth of (lignocellulosic) biomass demand would be anticipated for its use in advanced biofuels used in transport.
The biomass potential for different years can be found in the table below. High supply scenarios "assume the mobilisation of additional forest sources and additional land available for energy crop cultivation".

Some important facts and figures from the report are:
From the various bioenergy sources, "liquid biofuels used in transport are almost solely produced from food-based crops (oil, starch, sugar) and wastes (used cooking oil, animal fats). Agricultural residues contribute only up to 1% to current biofuel production in the EU (AEBIOM, 2017)".
About 18% of total biomass consumption in the EU today is used for energy purposes (bioenergy).
"In total, 1600 to 2200 Mt biomass are produced in the EU of which 450 to 680 Mt remain unused. The unused biomass consists of agriculture residues such as straw and forest residues. In most cases, part of it has to be left on the field or in the forest, for example to maintain and improve soil organic matter, but part of it could be removed without negative consequences (Kluts et al., 2017)".
Total cultivated land for energy crops could double current, resulting in 1.3 and 2.8 million hectares in 2030 and 2050, respectively.
Approximately 25% – 36% of theestimated biomass potential is expected to be available from forests (stemwood and forest residues such as logging residues,sawdust), but partly it is already uti- lised in electricity and heat sectors (95 Mtoe).
Advanced biofuel production could potentially lead to increased trade of solid biomass that need economies of scale and reduced supply risks. On the other hand, advanced biofuels could also be imported from overseas, reducing capacity development within the EU.
You can find more about the ADVANCEFUEL Project here. You can also find other reports from the ADVANCEFUEL Project here.