Sustainable Marine Biofuel for the Dutch Bunker Sector
2018
Peter Grijpma (Utrecht University)
Netherlands Platform Sustainable Biofuels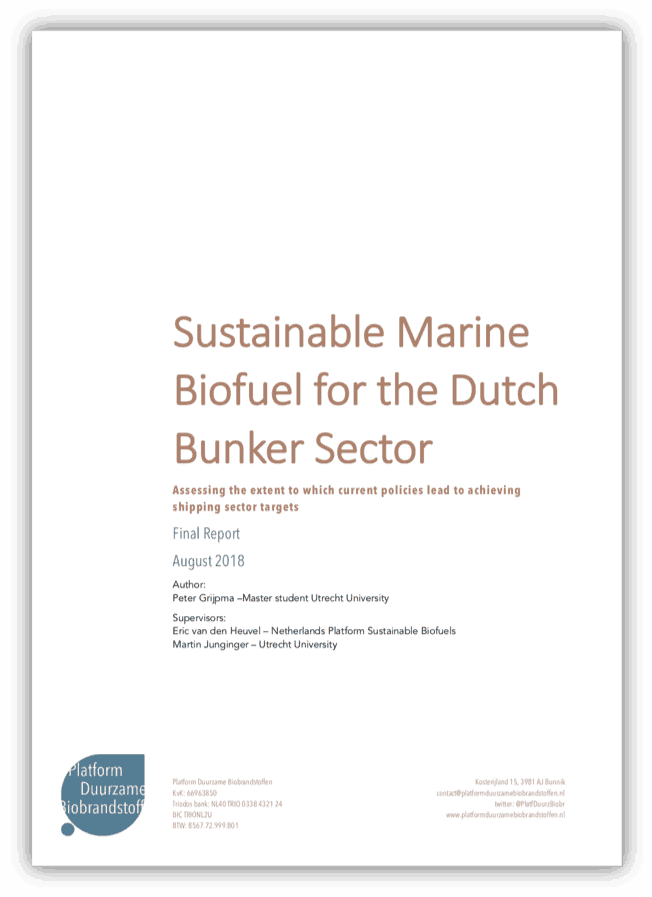 This research report looks at what level of sustainable marine biofuel adoption can be expected in the Dutch international shipping sector by 2030 under the current legislative environment. The results have shown that a substantial increase in the level of sustainable marine biofuel adoption in the order of 10 PJ may be expected in the Dutch international shipping sector by 2030.
This is principally as a result of the renewable energy obligations under the Renewable Energy Directive II and the introduction of a multiplier for supplying biofuel to the shipping sector. The introduction of stricter sulphur regulations in 2020 also plays a role by allowing marine biofuel to compete with the more expensive MGO rather than HFO. As the overall target for renewable energy in transport in the EU is the principal driver for biofuel adoption, biofuel adoption in the international shipping sector would come at the expense of biofuel adoption in the road sector. Important to note is that EU policy is likely to result in a reduction in transport renewable energy adoption by 2030 relative to 2020, due to the presence of multipliers and the link introduced in the RED II between a country's cap on crop-based biofuels and its renewable energy in transport target.
For this research, a number of biofuel deployment scenarios were formulated through the use of the ECN RESolve-Biomass model. The RESolve-Biomass model allows for the determining of the cost-optimal deployment of biofuel production pathways to achieve a given share of renewable energy through using policy information and techno-economic data on biofuel production technologies.
The report can be downloaded here.