Understanding the sustainable aviation biofuel production potential in Sub-Saharan Africa
2019
WWF/IIASA/Boeing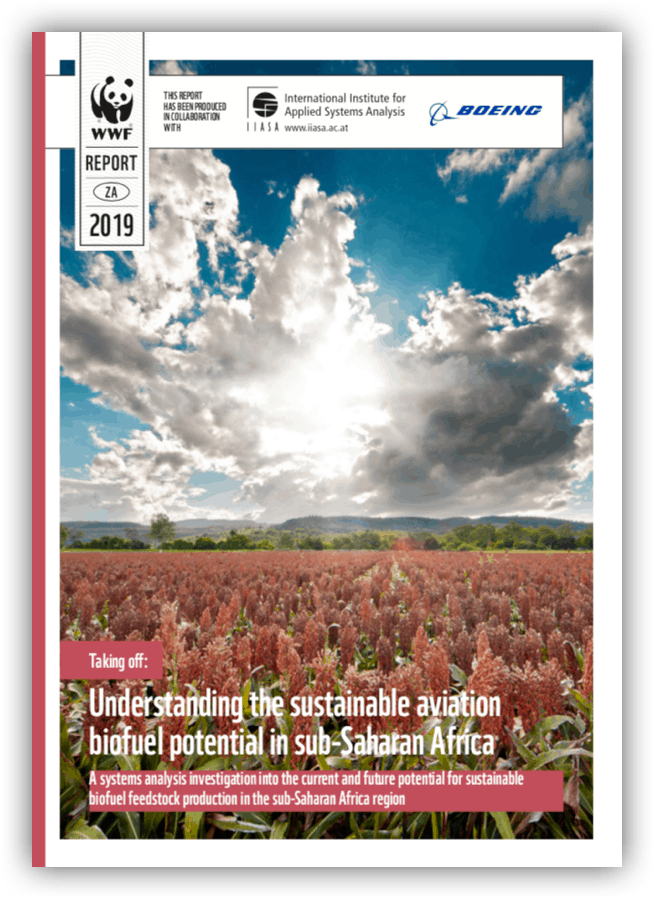 Quotes from the IIASA website on this new report:
"A new study, designed by IIASA researchers for conservation charity WWF, has found that while there is a small but not insignificant potential for the production of sustainable biofuels in sub-Saharan Africa, this should be prioritized for the aviation industry which has limited other options when it comes to reducing carbon emissions.
Among the key findings are:
Sub-Saharan Africa could at best contribute between 30% and 90% of long-term alternative aviation fuel demand in the form of RSB-compliant aviation biofuel produced from energy crops on approximately 84 million hectares of prime and good quality land and another 157 million hectares of moderately suitable land.
This assumption holds that all energy crops on suitable land in sub-Saharan Africa would be reserved for the exclusive production of biofuels for aviation.
The highest greenhouse gas savings are typically achieved by perennial crops. To incentivize farmers to invest in the cultivation of such crops, the aviation industry and fuel suppliers should sign long-term off-take agreements to mitigate the risks related to their production.
Annual energy crops could be planted on degraded land (such as the rehabilitation of mining land) and could replace other industrial crops in decline. An example would be replacing tobacco crops for the cigarette industry with Solaris tobacco which is a tested feedstock for biofuel.
Because shipping feedstock long distances could reduce the greenhouse gas savings, the finished product should ideally be processed locally to develop a local biofuel value chain and industry."
The report can be downloaded here.