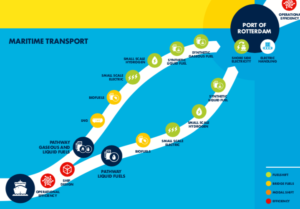 To Port of Rotterdam the decarbonisation of maritime shipping will in the first instance involve technical and operational measures to improve the efficiency of energy use during operation. This measures combined can reduce between 20-50% of CO2 -emissions.
In order to further reduce emissions, a fuel switch is necessary towards electricity, hydrogen and synthetic fuels such as methanol. Both LNG and biofuels can be used as bridge fuels between 2020 and 2050.
The Wuppertal Institut was asked to map out how freight transport via Rotterdam can contribute to the reduction of our CO2 emissions – even though the shipping sector isn't actually covered by the Paris Agreement. Their research identified a number of key pathways. An important finding is that transport volumes and cargo flows themselves will actually change as a result of the Paris Agreement's implementation. Coal transport volumes, for example, will decline – with this cargo being replaced by other product categories like biomass and synthetic fuels.
According to the researchers, LNG and biofuels will continue to play a major role as fuel alternatives until sufficient synthetic fuels become available.